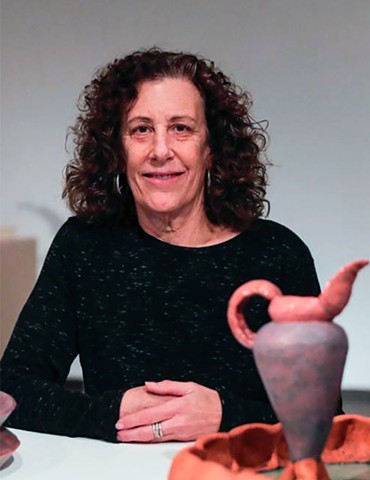 My ceramic artwork has developed in multiple paths; oversized gestural teapots, large-scale sculpture and working off the wall. These different ways of working are all conceptually based in juxtaposing organic abstraction in their forms with surface treatments that explore relationships with pattern and decoration. These interests have taken two distinct avenues; working in a mural format with a modular form that is uniquely carved and making ceramic objects that are abstracted from nature and arranged in an environment that gives them a sense of "place". Many of these ceramic sculptures incorporate deeply carved surfaces and ceramic objects that juxtapose the geometric structures of these sculptures. The carving is used to establish another layer of information that refers to organic growth systems. My handbuild teapots are whimsical, oversized and deny function. They allow me to play with referencing the history of the vessel without concerns for function. They are glazes in inviting colors and surfaces patterning that reference nature as well.
The aim in my work is to integrate disparate elements. I combine forms that are derived at from my love of geometry and abstracted from observations and interactions with nature. Balance and gravity give these pieces a tension in their arrangement and a sense of having an "awkward elegance" that I strive for.
I use clay in a direct and spontaneous manner. As I bend and push the clay, it responds by tearing and cracking. I leave all this evidenced so the viewer may better understand the nature of the material and give the viewer an entry into the work. The methods I employ in creating my artwork are conceptually based in connecting the artist with the hand. Many ceramic artists today are looking beyond the latest trends in technology and returning to the meaning of works created by touch. Clay is the ultimate materials to record touch and the intention of the artist, and I believe my artwork exhibits excellence in doing so.